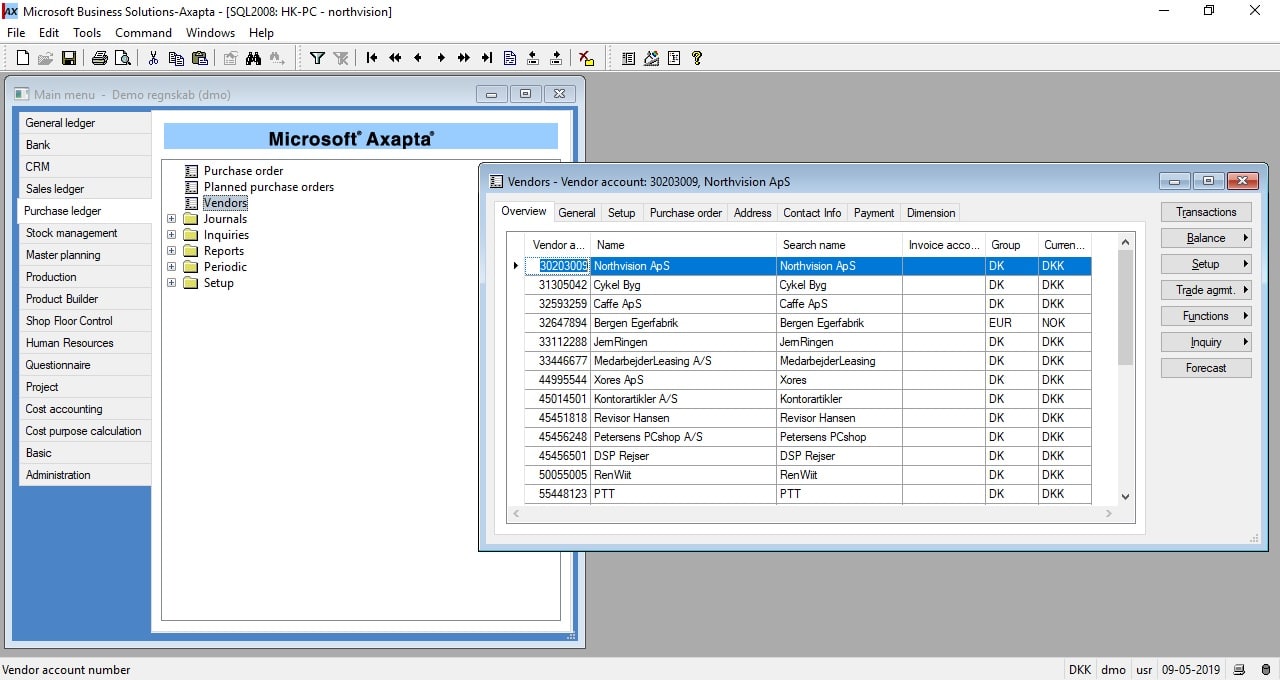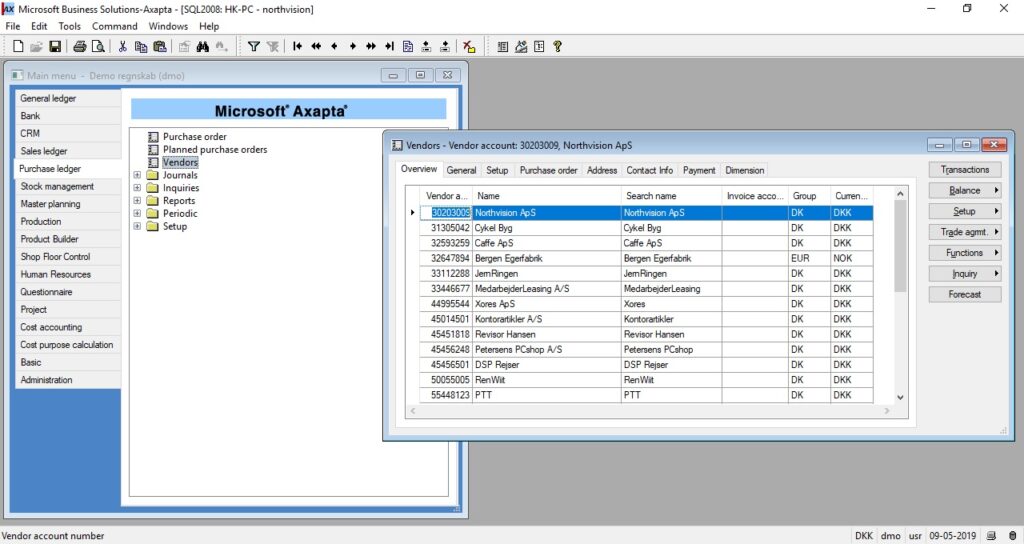 Below you can find a list of the bigger Dynamics Axapta 3.0 tasks that I have carried out for both Danish and foreign companies.
SAF T financial solution for Axapta 3.0
Solution for integration with the Norwegian Tax Directorate via SAF-T XML format
Fixed price on EUR 3500 plus 1-2 consulting days.
Development of loan module for lending between companies in Axapta 3.0
New module for handling loans between companies and external loan recipients.
Upgrading from Axapta 3.0 to Dynamics AX2012
Solo upgrade to AX2012, including analysis, data upgrade, development and consultancy assistance.
Commissioning of web services in Axapta 3.0
New web services for integration with other systems.
Conversion, commissioning and ongoing programming
Conversion of data as well as consultancy and programming tasks for foreign group with over 150 accounts in Axapta 3.0 plus integration to Sharepoint.
Upgrading from Axapta 2.1 to 3.0
Solo upgrade with analysis of scope, application upgrade, data conversion and commissioning support.
Commissioning assistance for AX 3.0
Customisation in connection with German subsidiary which was acquired by a major Danish industry concern.
Word integration
Integration of tender system with Word in Axapta 3.0 so that the tenders are in future created from a Word template. This gives the user the possibility of flexible designs.
Axapta integration to website
Integration to website from Axapta 3.0 so that course plans and course texts can be transferred. In addition, automatic loading of course registrations from the website.
Cross docking solution for Salling Group for AX3.0
Handling of labels and exchange of documents.
Handling of more users than licensed due to no possibility of additional licences
The customer had not paid the maintenance subscription and was therefore unable to purchase additional user licenses. The solution was to place shop floor come/go outside of Axapta 3.0.
Development of web service methods for external applications in Axapta 3
Development of approx. 30 methods for calling in Axapta via web service.
Integration between Axapta 3.0 for Avida debt collection agency
Transfer of overdue invoices and import of paid invoices together with handling collection fees.
Integration to Autopilot Axapta 3.0 and Axapta 4.0
Exchange of data files via files with projects and time tracking.